TUTTI GLI UOMINI DI ALTAROMA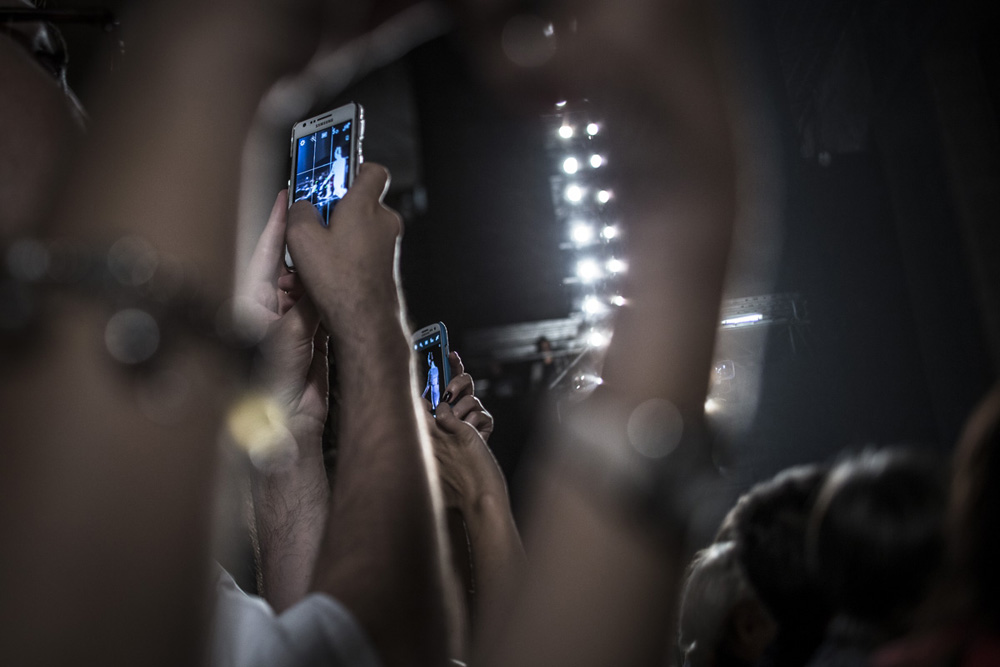 L'appuntamento estivo di Altaroma, rassegna dedicata all'Alta Moda ed all'alto valore artigianale Made in Italy è un incubatore di talenti, grazie agli storici eventi correlati presenti, oramai da anni, in calendario. Positivi i riscontri degli addetti del settore che ritrovano nella cinque giorni una fucina di idee, luogo di confronto e di dibattito "slow", circondati dall'aura della Città Eterna.
Collezioni donna e qualche flash dedicato all'uomo portano Fashion Files all'analisi dei protagonisti maschili e della loro personale visione in merito alle prossime stagioni. Who's on Next, concorso supervisionato da Altaroma, alla sua decima edizione, ha decretato come unico designer in concorso, nonché, vincitore Salvatore Piccione.
In passerella la donna Piccione Piccione viene introdotta sonoricamente da cinguettii hitchcockiani rivelandosi poi una moderna Venere rinascimentale. Da Botticelli ai pixel dei quadri di Roy Lichtenstein, le ispirazioni sono elaborate in pattern caleidoscopio che raffgurano la natura in fore. Fludità, leggerezza e scelta di linee asciutte fanno leggere a chiare linee il suo background professionale, in cui spiccano le collaborazioni, post diploma IED Roma, con Mary Katrantzou e Celine.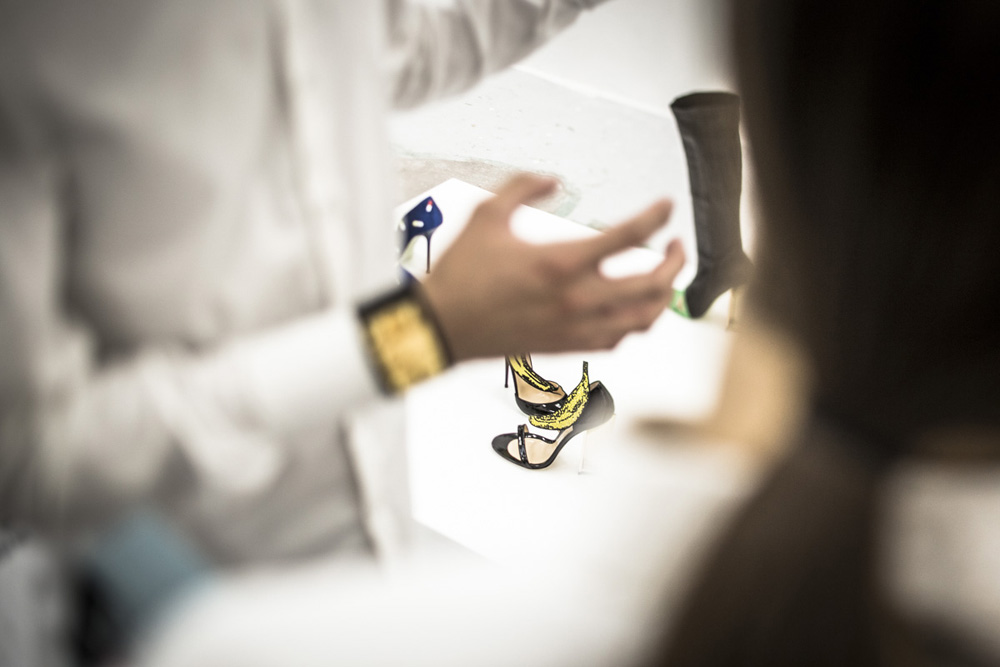 Percorrendo gli altri eventi, esterni al complesso monumentale di S.Spirito in Sassia, luogo prescelto per la maggior parte dei fashion show, ci si imbatte in altri talenti, punti di riferimento degli istituti che li hanno formati. E' il caso di Marco Rambaldi, diplomato allo IUAV di Venezia. La sua donna borghese, che vive in Laguna, si muove come uno spettro nell'Hotel Columbus, estrapolando gli outft da vecchi guardaroba e traendo spunto dalle fotografe dei suoi avi.
I più classici dei capi, come la gonna a pieghe, il tailleur e il loden vengono reinterpretati e "sporcati" da stampe arabeggianti. Come la repubblica marinara fu luogo di scambio e contaminazione così la collezione di Rambaldi subisce una connotazione esotica che lascia spazio anche a materiali tecnici "disturbanti", come le paillettes in PVC.
La settimana della moda romana rafforza il connubio moda e arte, grazie ad AI-Artisanal Intellegence, iniziativa itinerante che si svolge presso le gallerie d'arte. Questa edizione è stata scelta la Galleria Giacomo Guidi, un piccolo angolo di concettualità a Trastevere, tra l'Orto Botanico, il Tevere e il Gianicolo. Designer ma anche forte animo da artista quello di Nicolò Giannico Beretta, uno dei talenti, insieme ad Andres Romo, selezionati dai curatori Clara Thosi Pamphili e Alessio de Navasques.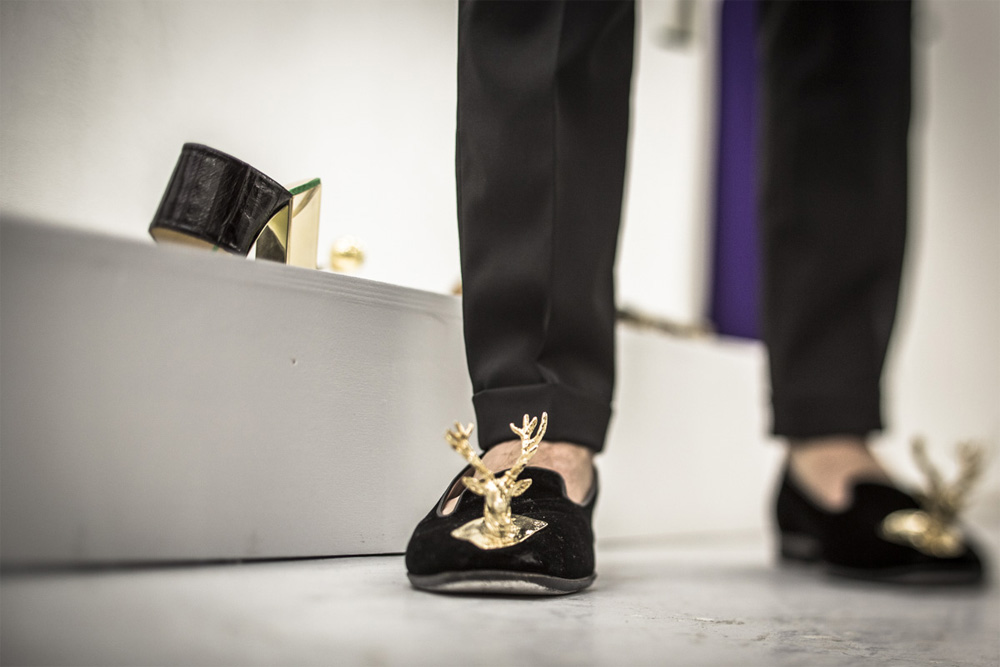 Le sue calzature per la prossima primavera/estate omaggiano la Pop Art, traendo spunto delle opere di Andy Wahrol, dalla provocazione fotografca di Helmut Newton e dalle eclettiche installazioni di Damien Hirst. Giannico veste i piedi di una donna contemporanea e decadente che fa uso di droghe e antidepressivi, risultando androgina e intrigante.
Al contrario, la gioiosa signorina Acapulco di Andres Romo, rivive dal Messico degli anni '50. Un' orchestra sinfonica di tessuti stampati in popeline, tipici del paese di Romo, trionfano su ampie gonne a ruota mixate a bluse in Crêpe De Chine e sottogonna in taffettà.
Una danza che conduce ad un altro omaggio alla capitale italiana da parte del designer messicano che chiude l'excursus: Andres Caballero. Un vero veterano di Altaroma, dopo il debutto al Who's on Next del 2012. L'omaggio, comparato alla sua città natale, si evince dalle silhouette anni '60 ispirata alle muse intellettuali dei più grandi artisti. Gli outft sono un trionfo di grafsmi multicolor, dove righe e quadri si sposano ai pizzi ed alle pennellate handmade che raffgurano altari vocativi dedicati a Roma, luogo che gli ha dato la possibilità di emergere.
Attraverso l'analisi dei protagonisti maschili e delle loro collezioni si denota una sentita dedizione per la rassegna che, anno dopo anno, si sta rivelando punto di riferimento, nonché primo step, per coloro che vogliono affacciarsi sulla piazza della moda contemporanea italiana ed internazionale.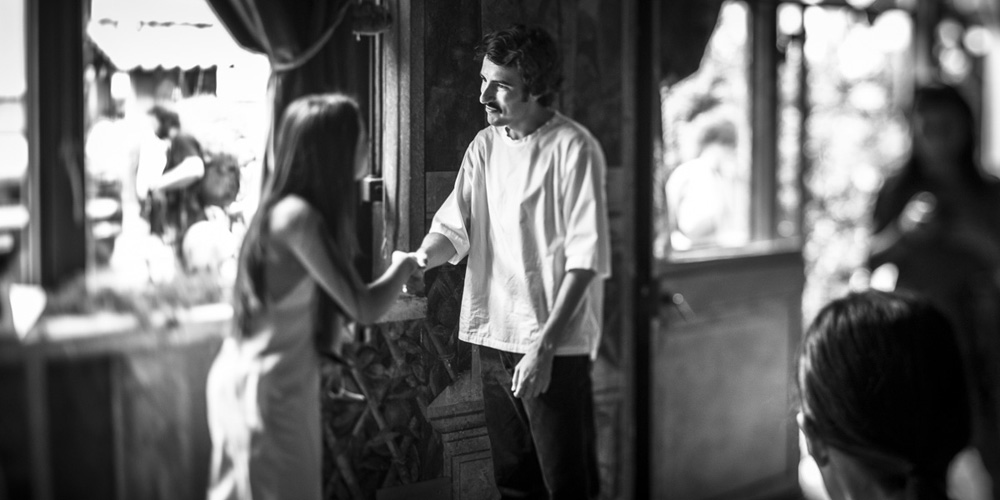 Photo by Gaetano Alfano
All Altaroma men
The summer appointment with Altaroma Men is a show dedicated to couture fashion and high quality handcrafted goods defned as "Made in Italy". It is a talent nursery, thanks to the numerous events past and
present which have become an established tradition.
The positive effect of meetings and an exchange of ideas between experts in the fashion business over the fve day event produces a wealth of ideas which emerge from "leisurely" meetings in the enchanting surroundings of the Eternal City.
Female Collections and a few rapid features dedicated to men bringing Fashion Files under the scrutiny of the main male personalities and their personal views on the seasons to come.
Who's on Next, is a competition which is supervised by Altaroma, at its tenth edition, it has decided on Salvatore Piccione, the winner, as the exclusive designer in the competion.
On the catwalk for the female Piccione Piccione show Piccione has used a sound effects introduction with Hitchcock style birdsong with the appearance of a modern Renaissance Venus. From Botticelli to the pixels of Roy Lichtenstein's paintings, the inspirations are developed in kaleidoscope patterns which depict nature in fower. Fluidity, lightness and choice of clean lines make his professional touch evidence of an excellent background in which ED Rome postgraduate project cooperation with Mary Katrantzou and Celine took place.
Following the other events, outdoors at the monumental complex of S.Spirito in Sassia, the place chosen for most of the fashion shows, you come across other talents who clearly show inspiration from the institutes they were trained in. This, in particular, is the case of Marco Rambaldi, who qualifed at IUAV of Venice. His middle class lady who lives on the lagoon of Venice, moves like a ghost in Hotel Columbus. He devises outfts from old wardrobes and takes inspiration from the photos of his ancestors.
The most classic of garments, like the pleated skirt, the suit and the woollen coat are reinterpreted and "dirtied" by Arab style prints. As the marine republic was a place of exchange and contamination so Rambaldi's collection is infuenced by exotic tones which leave space for the use of technical materials which "disturb" like PVC sequins.
The Roman fashion week enhances the blending of fashion and art, thanks to AI-Artisanal Intellegence a mobile initiative which takes place in the art galleries. In this edition la Galleria Giacomo Guidi was chosen. It is a small corner concept in Trastevere between the botanic gardens and the Tiber and the Gianicolo.
A designer but with the soul of an artist Nicolò Giannico Beretta is one of those talents, together with Andres Romo, who were chosen by Clara Thosi Pamphili e Alessio de Navasques, the organisers
His shoes for next spring summer celebrate Pop Art, taking inspiration from the works of Andy Wahrol, from the provocative photography of Helmut Newton and from the eclectic installations by Damien Hirst. Giannico clothes the feet of the modern contemporary and decadent woman who takes drugs and antidepressives, appearing to be boyish and intriguing.
On the contrary the joyful miss Acapulco by Andres Romo, relives the Mexico of the 50s.
A symphony orchestra of printed fabrics in popeline which are typical of Romo's country, bloom on wide full skirts combined with Crêpe De Chine blouses and taffeta skirts.
A dance which leads to another celebration to the Italian capital by the Mexican designer which concludes the experience is Andres Caballero. A true Altaroma veteran, after his debut at Who's on Next in 2012. His way of dedicating to his native city, can be seen in the '60s silhouettes ispired by the intellectual muses of the greatest artists. The outfts are a triumph of multicoloured sketches, where stripes and checks blend with laces and handmade brush marks which portray the altars to the gods dedicated to Rome, the place which brought him fame and success.
By looking into the chief male fgures and their collections a strong dedication to the event can be perceived, which year after year is becoming a reference point, besides being a frst step for those who want to come out onto the contemporary Italian and international fashion scene.
invia ad un amico