Afterparty Fashionweek Rome
Al via la
XXI edizione di AltaRomAltaModa
curata da
Silvia Venturini Fendi
, l'evento più glamour della capitale fino al prossimo 29 gennaio. La promozione dei giovani talenti, la valorizzazione dell'alta moda e la riscoperta di botteghe e laboratori sono solo alcune delle caratteristiche che la manifestazione porta con sé, salvaguardando e alimentando, anno dopo anno, quel bacino di abilità che rappresentano il Made in Italy in tutto il mondo.
Numerosi gli eventi collaterali: fashion performance, installazioni artistiche, store openings e presentazioni di libri.
Tra questi,
la redazione di Fashion Files è felice di annunciare l'AFTERPARTY FASHIONWEEK ROME
, in programma
martedì 29 gennaio al 7° piano del Radisson Blu Es Hotel Roma
, in chiusura di
AltaRoma
. Un format innovativo ideato dalle vulcaniche Ursula Seelenbacher e Luisa Berio per dar vita ad un longaperitif all'insegna della moda e del glamour.
Djset Gians, special guest in consolle il dj Marco Moreggia
.
Nel corso della serata il noto gruppo
Sleeping Cell
, Band fondata da "Zaionair" ex frontgirl del collettivo Almamegretta e della band electro Minimod, si esibirà in un imprendibile live dalle sonorità elettroniche.
Fashion Files, media partner della serata, sarà in prima fila… e voi?!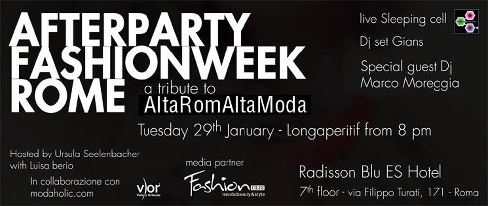 Thanks to AltaRoma for the support!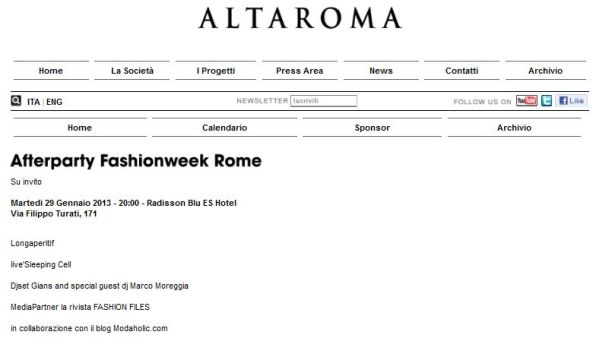 invia ad un amico